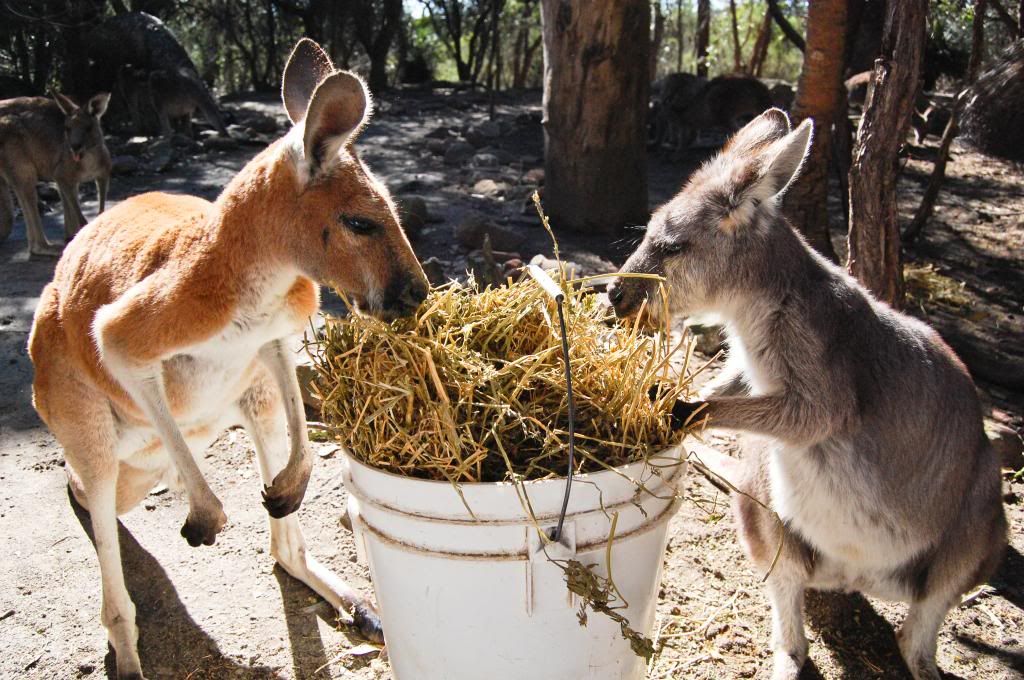 While my brother was visiting, we spent half a day at the
Australia Walkabout Wildlife Park
. This is the place to see Australia's wildlife. Reptiles, koalas, flying foxes and dingoes are all here. But we come for the indigenous marsupials who roam. Free-ranging kangaroos, wallaroos (not quite a wallaby, not quite a kangaroo), wallabies and pademelons in a peaceful bush sanctuary.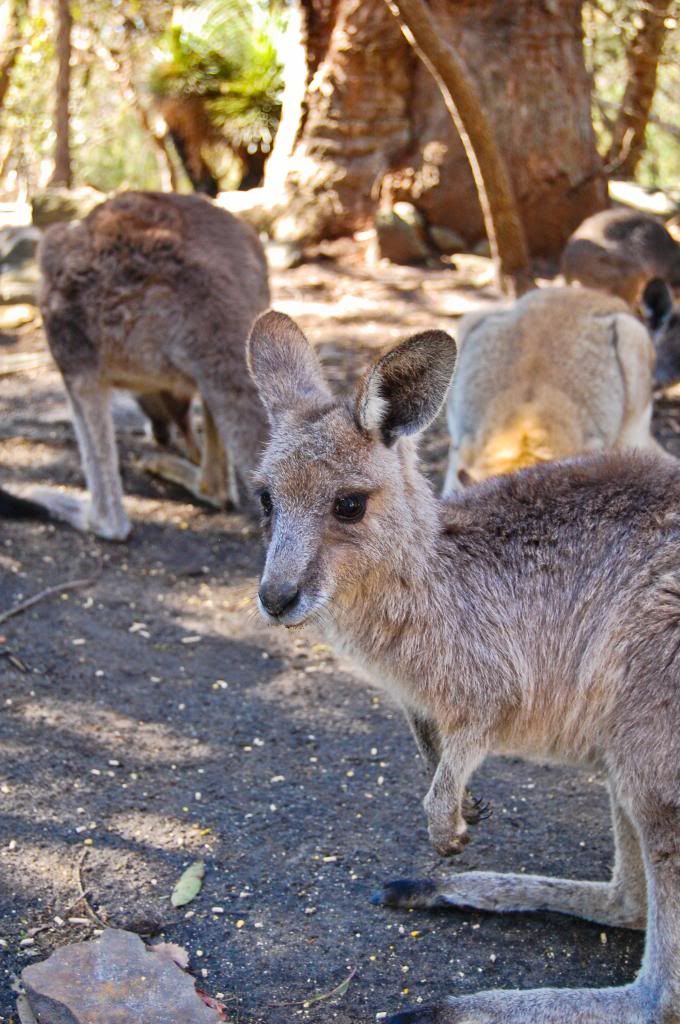 We arrived just in time to watch all the kangaroos and emus gather for their 10am feed.
Luca was three and Kian a few months old when we visited last. It was a different experience this time round with a toddler who charges everything in sight.
What I remember from our first visit were the incredibly tame kangaroos – I was amazed at how comfortable they were with children running around. They lie about while you pat them and snuggle up to them, and when they've had enough, they just jump away.
What I don't remember is their cheek. One madly rummages through the picnic bags in the buggy and steals an apple, while another buries its head in my lap looking for the last cream cheese sandwich. I try and guide it away but I am too busy laughing.
Meanwhile, an emu chases Luca and his lunch around the picnic table. Kian just watches in his own way.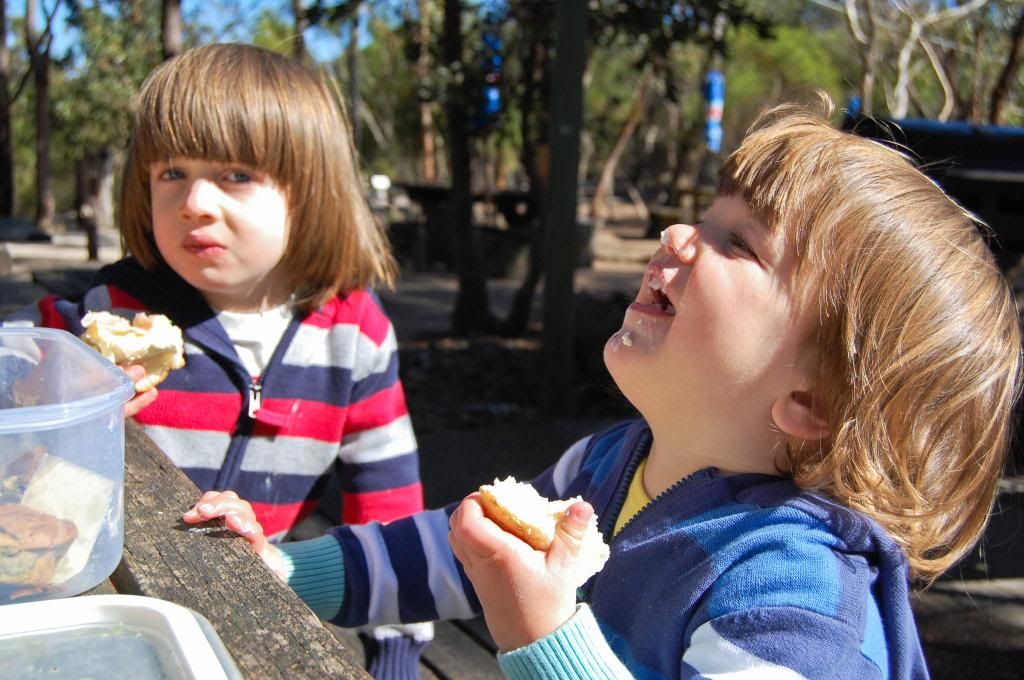 We think we have it all under control and turn our backs for a second, and there are kangaroos all over the buggy. Heads buried in the bags. Graeme has to literally pull them away. Very gently, of course.
So, naturally, we give up and pack up our food.
After a long walk along bush tracks and ancient Aboriginal sites, Luca gets a lesson in throwing a boomerang. The boomerang-throwing workshop is held every day at 12pm.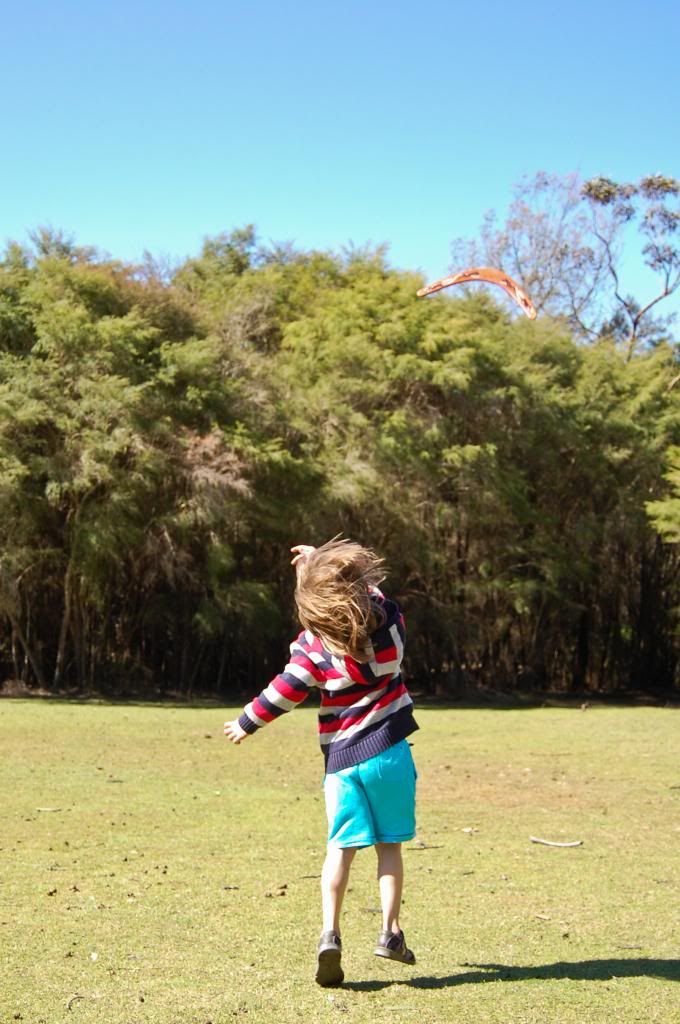 The lovely people at the park have given me a family ticket worth $60 to give away to one of my readers who'd like to experience kangaroos in their element and emus peering over your shoulder as you picnic.
Look at that beautiful face... All you have to do is leave me a comment and be a follower (the grey 'follow' button up there on the right). Did you know I have a
Facebook page
by the way? You could earn yourself an extra entry by joining me there too. Just leave me an additional comment to say you have. I'll pick the winner a week from today.
Oh, look at that, the boys are wearing stripes again. The same stripes. At least you know I don't plan my children's wardrobe
...
Update: giveaway now closed. Congratulations Anna!