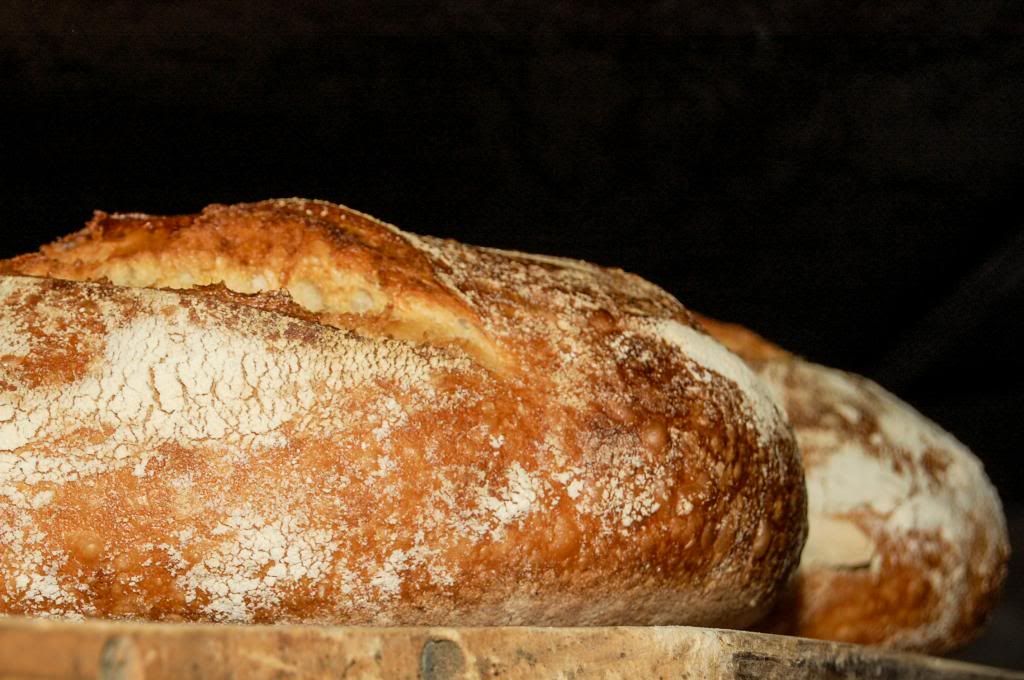 I love to shout about people who do good, especially when it comes to food. I knew
when I visited La Tartine
that I wanted to do a lot of shouting. I hope everyone can hear me...
Nick Anthony and his French wife, Laurence, opened La Tartine, Australia's first certified organic sourdough bakery, almost 15 years ago. They moved over from France where they made traditional pain au levain – proper heavenly sourdough with nothing but organic stoneground flour, spring water and Brittany sea salt. This beautiful bread with its distinctive sourness, chewy open crumb and sweet, crackling crust is the reason they set up their own bakery on Wisemans Ferry Road, Somersby here in NSW.
Instead of French ingredients, these Central Coast-made loaves use organic flour from Gunnedah, filtered tap water ("there was no way we were using tap water after our daughters complained their bath water stunk like a swimming pool!") and Murray River salt.
So what is sourdough
? Well, it's bread raised using natural yeasts – wild yeasts that are all around us. The sourdough process starts off with a natural leaven made up of flour and water that's left to ferment with the help of these airborne yeasts. This leaven is mixed with more flour and water to make a dough, then it's cut, weighed and shaped into loaves – all by hand at La Tartine. It's the long proving, though, that makes a great loaf.
Jan Hackenberg
, one of Nick's bakers, and one of those infinitely charming people who draw you in with talk about their craft, did just that. He talked to me about bread. He told me that a properly fermented sourdough is much easier for the body to digest. It's how we should eat bread.
And have you wondered about those cheap loaves with a sourdough label? Well, that's all they are. Commercial yeasted breads made sour with added vinegar. Sourdough, as Nick pointed out to me, is more than just a sour bread. It's all about the fermentation and the proving; the sourness is simply the end result. You can always tell a slow-fermented loaf by the air bubbles all over the crust.
The stoneground flour they use is creamy and coarse. It's beautiful. Modern powdery roller-milled flour, on the other hand, is stripped of its nutrient-rich wheatgerm and bran.
But here's why
they scared me
. They work really hard; they lug back-breaking bags of flour and cut loaves from early morning till late at night. Slow food is always really hard on the people behind it. It's passion that drives them. But they can't get dedicated folk who share the same passion to work as hard as they do. They never last.
It's so hard on them they don't even want their children doing what they do.
What happens in years to come when Nick and Laurence want to retire from 14-hour days at the bakery? Who will take over and sell us sourdough at the markets?
Will there always be someone like Jan who cares enough about slow food to work this hard, or will traditions eventually die out because the appeal to earn quick money making cheap food is too great?
People nowadays don't want to make bread this way, or cheese... They don't want to age their meat and they don't want to properly cure their bacon. Slow food is becoming a rare thing.

It's there if we look for it. I'm always looking for it. Writing about it. I know that helps.
If you live near me, look out for La Tartine loaves – they're sold in most good grocers around Sydney and the Central Coast (or head to the bakery on a Friday after 3pm and meet them in person). If you live in London, read the piece I wrote for Homes & Gardens on
London Bakeries
– it was always a good day when Graeme walked through our front door with a St John's loaf. If you'd like to try and make your own, then come back here. I'll be making my own sourdough very soon. My
pat, pat, rub, rub
rhythm is working well...
What's your idea of slow food? Do you wish it was the norm? Do you live near lots of wonderful artisans?
Follow me on Facebook or here on Blogger and you'll know when I get it together to start sourdough at home.
Another artisan: Cocopure