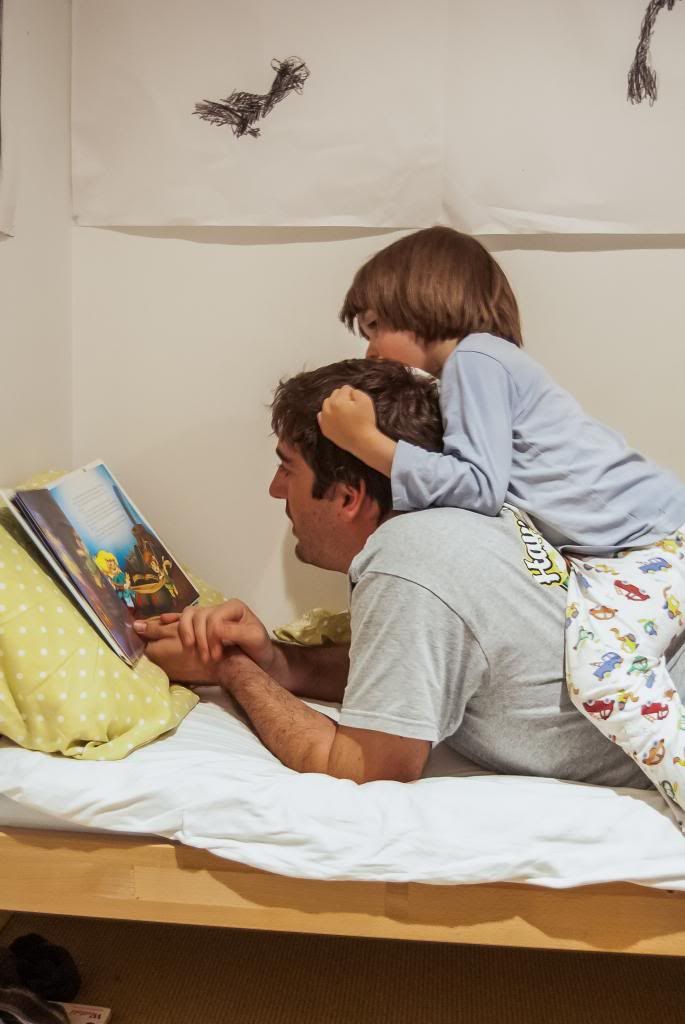 It's that time of year, with Kian's birthday only days before Christmas and Luca's a short while after, where I take stock of what books we have and look into buying new ones for both the boys.
I still haven't finished reading Simplicity Parenting, but I am taking heed of the advice where books are concerned – just because they are a source of joy doesn't mean we should accumulate more and more. Rather then be consumed and ticked off a list somewhere, good books are there to share a story, beautiful illustrations and words you want to read again and again.
We do seem to have a fair few that are just a bit blah once you've read them a few times, and while it was hard to put all these books on the charity pile, it was good to see the real stars shining on the
book ledges
.
Julia Donaldson does take up a lot of space, and I have to say that some of her creations are better than others. Luca knows every word in Charlie Cook's Favourite Book and he's also very fond of Stick Man (a good Christmas book, by the way).
We've been fans of Lynley Dodd ever since Luca received the Hairy Maclary series four years ago. While Luca doesn't often request a Hairy Maclary title anymore, he does love Schnitzel von Krumm, Dogs Never Climb Trees, particularly when he's tired and only wants to read the one book.
Hairy Maclary and Zachary Quack was a board book we bought for Kian on his first birthday... Pittery pattery, skittery scattery... He's grabbed it almost every night for the past year, and I still love reading this one.
I wish Luca asked for Oliver Jeffers more often. I find his pace and illustrations just perfect for winding down and settling into bed. He writes in a way that makes you read slowly, almost whispering. It makes for a rather good bedtime book, I think. How to Catch a Star is one that always gets Luca asking questions.
Another lovely read is Heroes of the Vegetable Patch, by Ulf Stark and Charlotte Ramel, produced, would you believe, by Ikea. I haven't been to Ikea in yonks, so it was news to me that you could buy books there. Aside from a couple of oddities in the text, this is a beautiful book about children tending an old lady's garden, making friends with the vegetables, dozing on rhubarb leaves and saving a bumblebee. A story full of warmth and colour.
Emily Gravett. We love her. Ever since
Auntie Jennifer
bought Luca The Odd Egg for his first birthday. He still reads it today, making egg-cracking sounds as he turns the pages. There are books Luca has that inspire him to draw. He literally leaps off the bed and has an urgent need to put pencil to paper. Emily Gravett's books do this to him. The three of us huddle around my feeding chair (which should now be called the reading chair) every night and read Monkey and Me, chanting as we tap our thighs to the beat we've made up. I talk about how I love her illustrations and how I'd love to buy prints of her elephants. Orange Pear Apple Bear is another simple but gorgeous title.
Eric Carle. Who doesn't have a few? The usual suspects are always good of course, but our favourite is Brown Bear, Brown Bear, What Do You See? I made up a tune for this years ago and now Luca sings it to Kian.
I've sometimes found the two of them on the sofa or in their bedrooms sitting quietly with Luca reading him a book or two. Very precious moments, especially when they're both blowing the wind in We're Going on a Bear Hunt.
Sam McBratney's tales of Little Nutbrown Hare and Big Nutbrown Hare are wonderful, especially for picking at the start of each season.

Peepo! Do you know that one? Janet and Allan Ahlberg's names are synonymous with good children's books, and this one is a classic. Old-fashioned, nostalgic and adorably charming, Peepo is a keeper.
Lastly, we're all allowed at least one book that we dread whenever our children's little hands reach for them... The Tiger Who Came to Tea, whilst very special because of the place it's had in this family's bedtime hour for the last four years, reminds me every time of its author's fondness for 'and'. And then, and all Daddy's beer, and he went, and Sophie found... I decided that I'd count them for you. Thirty-four instances of 'and'. A whole lot of 'ands' in this one little story, but don't let that put you off. Every young child should have this one – if only so that you have to answer questions about the water in the tap.
Over the last few weeks, I've been looking at new books from favourite authors and authors we haven't come across before, trying to be a little more careful about how I fill their space and choosing ones that will really capture their imagination. I'm looking forward to reading Again and Blue Chameleon, both by Emily Gravett, plus Ernest and Solomon Crocodile by Catherine Rayner. Pat Hutchins' Rosie's Walk is another I think they will like.
And just because I want to pore over this one: Oliver Jeffers' This Moose Belongs to Me.
Because WE have to love storytime, too. Don't you think?
What's on your list for new books? What are your favourites and which ones irritate you (just a little bit)?